Ergonomics 3.0 - Impacting the Human Experience
Lunch Meeting presented by Teknion
February 27, 2020 | By Webmaster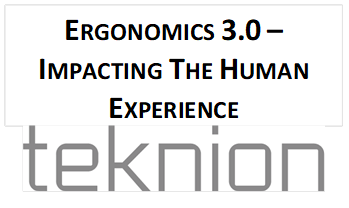 We welcome to you to our first presentation and luncheon of 2020! This course outlines the principles of ergonomics and how they impact our comfort and well-being. It provides an understanding of how / why office furniture and related ergo accessories are sized the way they are and breaks down myths regarding furniture dimensions and ergonomics.
Making good choices regarding posture, how/where we work and encouraging movement throughout the day will enhance our wellness and reduce the risk of discomfort and injury. Having a movement strategy will support these efforts and make it easy to promote movement and proper posture, good ergonomics also supports WELL and LEED certifications for office environments and this presentation will outline all of the details!
Presenter:
Stacey Pediny, DID of Teknion

Continuing Education Credits: AIA, IDCEC and CSC available.
Date: February 27, 2020
Time:
11:45 am - 12:15 pm - Lunch
12:15 pm - 1:00 pm - Presentation
Location:
Saskatoon Delta Hotel
405 20th Street East
Cost:
$30.00 - CSC Members
$35.00 - Non Members
$15.00 - Students
Payment Options: Cash/Checque/Visa/MasterCard - at the door.

RSVP: Confirm your attendance by contacting Tyler Grabowski via email at tyler@penwestsales.com or by phone at 306 514 2579 no later than February 25, 2020 at noon. It is important to confirm your attendance so we can ensure that the venue is prepared.